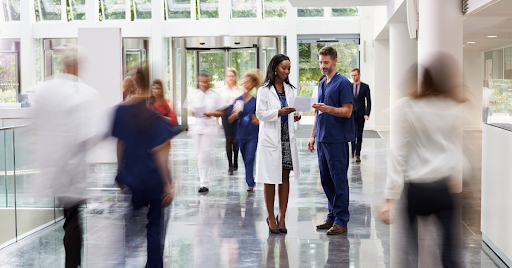 In the past decade, many hospitals have made the smart decision to outsource their medical transcription. Yet that may leave you wondering just how medical transcription outsourcing can benefit hospitals. One of the main demands in the healthcare industry is an increased need for higher-quality documentation of medical records— cue medical transcription outsourcing. 
Medical Transcription Outsourcing
Medical transcription outsourcing not only can help with cost savings but also can help streamline workflow. This includes services for various medical reports, including history and physical examination reports, operative reports, patient discharge summaries, emergency room reports, chart notes, medical evaluations, psychiatric evaluations, x-ray reports, and many more.
Here at Fast Chart, we've outlined several of the many reasons outsourcing your medical transcription can improve the success of your hospital facility. 
1. Cost Savings
One of the greatest benefits of medical transcription outsourcing for hospitals is the cost savings it can offer them. By outsourcing medical transcription, you can save a significant amount of money on salaries and benefits. In addition, you won't have to purchase costly equipment like computers, dictation systems, and foot pedals or maintain any hardware or software.
2. Time Savings
It can be time-consuming for a hospital to manage a team of in-house medical transcriptionists. When they outsource medical transcription services, they can spend the majority of their time on what matters most: patient care.
3. Access to Highly Trained and Experienced Transcriptionists
Most companies that specialize in medical transcription are selective in the transcriptionists they hire. At Fast Chart, we only hire transcriptionists that have at least 2 years of experience and are up to date on the latest regulations and trends in medical transcription. We ensure they have the equipment, typing skills, and medical knowledge they need to provide hospitals with the highest quality service.
4. Accuracy and Compliance
If you opt for a quality provider, outsourcing medical transcription can ensure your hospital receives the accuracy and compliance they need to be successful. We are pleased to achieve a 98.5% accuracy rating by only hiring the best of the best and allowing cutting-edge technologies to work for us. Some of these technologies include automated transcription, computer-assisted coding, and speech-enabled HER/EMR that is compatible with any platform. In addition, when working with Fast Chart, there is no concession on the quality, as our hospital transcription services follow HIPAA guidelines.
5. Accommodate Volume Fluctuations
Hospital volumes typically vary on a weekly basis. Some seasons are also busier than others. If you take advantage of medical transcription outsourcing, you can ensure you have a team of experienced medical transcriptionists at any moment without having to spend a great deal of time and money on maintaining an in-house team who may work a lot one week and have far less to do the next week. With a dependable outsourced medical transcription service, you can have a few documents transcribed one day, and hundreds transcribed the next day.
6. Streamlines Workflow
With the help of technology, medical transcription can be done quickly and easily, allowing healthcare providers to focus on their core tasks. By outsourcing this task to reliable transcription services, healthcare providers can ensure that their documentation is completed in a timely and accurate manner, freeing up time and resources for more critical tasks. Streamlining your document workflow helps to minimize extra steps while simultaneously ensuring security and confidentiality.  

Are you ready to find out how medical transcription outsourcing can benefit your hospital? If so, here at Fast Chart, we know our medical transcription services will exceed your expectations and improve the productivity and profitability of your hospital. To learn more about how medical transcription outsourcing can benefit hospitals, contact us or call our office at 1-800-334-6606.