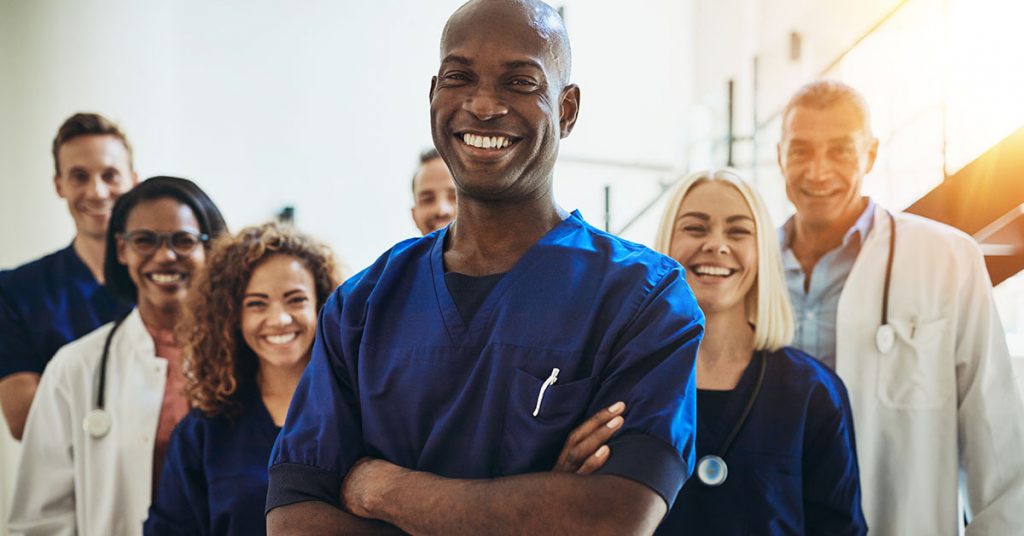 Did you know that over 30% of hospitals report they can't find enough candidates to fill open positions? Staffing woes extend to smaller organizations and practices as well. Medical offices are finding it difficult to recruit and retain clinicians and support staff. If your organization or practice is facing healthcare staffing challenges, then try these solutions.
1. Focus on Employee Satisfaction
According to HealhtManagement.org, employee turnover in healthcare is 30% higher than in other industries. Healthcare professionals often have heavy workloads that are only increased by staffing issues. Some employees also report that tense relationships with colleagues and supervisors are also to blame for turnover. So, to keep the staff you have, you need to evaluate what you can do to increase employee satisfaction.
Try to see if you can make adjustments in areas like scheduling. Scheduling is one of the biggest pain points in healthcare organizations and private practices. For clinicians who work shifts like nurses, schedules are made up to eight weeks in advance. Once the schedule is set, there is very little room to adjust. This is a major cause of job dissatisfaction. 
2. Find the Right People
Another way to retain employees is to hire the right people in the first place. That can seem like a vicious cycle when it's a struggle to fill positions. However, if you find people who fit into your organization or practice, then you will have less turnover down the line. 
To find the best fit for a position, you need to learn more about how your team works. Then you can decide whether a candidate would be a good part of that team. There are multiple assessments you can give your current employees as well as job candidates to ensure you are putting together a cohesive team.
3. Invest In Technology
There has been a lot said about how healthcare IT is impacting practice management and patient care. However, those aren't the only areas benefiting from new technologies. Investing in technology that interconnects all of the information and processes in your organization can make things easier for both you and your staff. 
For employers, streamlining the recruitment and staffing process into one system will make finding and hiring candidates easier. For employees, cutting down on the programs they need to master will allow them to make the most of their working hours. Learning and using multiple systems can be time-consuming and frustrating. Integrating all of the aspects of healthcare into as systems as possible can improve workflow and reduce the workload when used properly.
Technology can reduce training costs when used correctly. Information and communications technology (ICT) and automated education modules eliminate the need for formally scheduled orientation and training sessions.
4. Update Training Procedures
Along with utilizing technology for automated training and orientation, there are other ways you can update your training procedures to solve healthcare staffing challenges. For example, cross-training employees can be very beneficial. Often times nurses and other staffers are in specialized positions, but that does not mean they can't receive additional training to fill shifts when needed.
Having multiple people who are capable of filling a position can be a saving grace when someone is absent. Or, it can be helpful to have someone who can perform essential duties if you have an open position that you're still working to fill.
5. Find Job Candidates from New Sources
One way to deal with healthcare staffing challenges is to find a candidate "pipeline" to tap into. Because there are more job openings than there are qualified candidates, you need to get facetime with people coming into the field. Healthcare organizations are beginning to look to the future and get a foothold in places that produce healthcare professionals. Become a presence at high schools and training centers so you can recruit graduates.
6. Outsource Clinical Documentation 
One way to resolve healthcare staffing problems is to outsource certain positions. Sometimes it is hard to recruit qualified transcriptionists, coders, and billing specialists. Then if you do find a good fit for the role, it can be hard to retain them. 
You can avoid this issue by partnering with a medical transcription company like Fast Chart. We are leaders in the field of clinical documentation and can help you meet the challenges of a changing healthcare landscape. Our services include medical transcription services, clinical documentation, and technology solutions. To learn more about our services and how Fast Chart can help you with healthcare staffing challenges, contact us at (919) 477-5152.