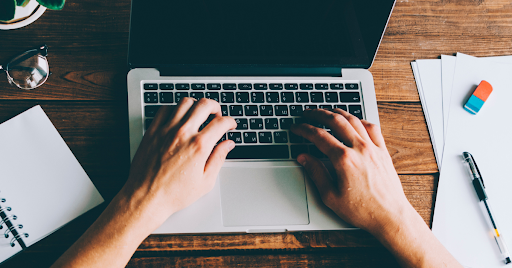 Every time a patient visits a doctor, notes are placed in their medical records. That being said, medical transcription is an essential aspect of quality healthcare and will continue to be for years to come. Never before has innovation in healthcare delivery been more critical or the demand to become a medical transcriptionist higher. Investments in innovative medical transcription solutions are accelerating because the benefits for patients and the healthcare organization are truly compelling.
Career As A Medical Transcriptionist
If you are searching for a meaningful career, consider becoming a medical transcriptionist. Here at Fast Chart, we deliver innovative, accurate, and affordable outsourced clinical documentation and technology solutions for hospitals, clinics, and physician practices. Below are several of the many reasons to become a medical transcriptionist in a great and growing career field.
      1. Excellent Medical Transcriptionist Wages
If you're wondering about medical transcription wages, you'll be pleased to learn that they are excellent. In addition, when you become a medical transcriptionist, wages are often coupled with paid time off, medical, dental, vision, and life insurance, and a retirement plan with a generous company match. Additionally, medical transcriptionists do not require a college degree. Instead, they typically need postsecondary education that leads to a certificate. Prospective medical transcriptionists must know basic medical terminology, anatomy and physiology, and rules of grammar.
      2. Rewarding Work
Many people choose careers in healthcare because they find it rewarding to help people, cure their illnesses, and allow them to live higher quality lives. If you'd like to make a difference in the healthcare industry without undergoing years of schooling, then a career as a medical transcriptionist is ideal for you.
When you become a medical transcriptionist, you'll be able to positively contribute to the healthcare industry and earn excellent medical transcription wages without spending a great deal of time on training and money on education.
     3. Flexibility
Career flexibility is important to many people, especially if they have children or other significant commitments. If you'd like a flexible career, becoming a medical transcriptionist is a smart move. You'll be able to set your own hours and even work from home if your company allows it. In your endeavor to become a medical transcriptionist, you will find that their flexible career gives them a great work-life balance while saving them money on gas, car repairs, and professional attire.
    4. Job Security
Job security is another reason to become a medical transcriptionist. Even though cutting-edge technologies have made medical transcription easier, there will always be a need for medical transcriptionists. No technology is accurate enough to find discrepancies in medical reports and replace the need for the critical thinking that can only be done by a human with the appropriate training and skill set.  
    5. Making A Difference
Although you may not be a doctor, when you become a medical transcriptionist, you are an important member of the healthcare team. Day in, and day out, you are making a difference in a patient's life. Most people are not aware of how vital accurate medical documentation is, as it helps doctors to assess the current situation and decide on the treatment. Without accurate documentation, health care could be compromised, and patients can be at risk. Ultimately, in your decision to become a medical transcriptionist, somewhere along the line, you are bettering someone's health, or even saving a life!
The medical transcriptionists at Fast Chart enjoy competitive medical transcription wages, the freedom to set their own hours, and job security. If you're interested in learning more about how to become a medical transcriptionist at Fast Chart, we encourage you to contact us today. We are excited about recruiting quality professionals who can support our medical clients with all of their medical transcription needs.