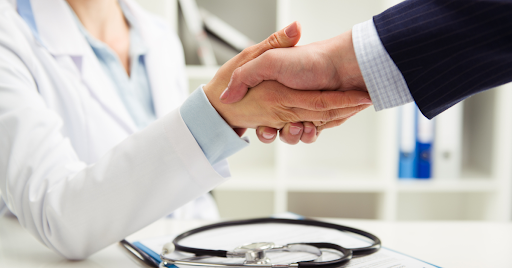 It's not abnormal for patients to complain about doctors who hardly have enough time to talk to them, but physicians have a reason to be irritated too. They feel that the odds are against them and would do nearly anything in their power to avoid administrative and financial hassles. Many physicians struggle with understanding and executing the business side of medicine.
Business In Medicine
Physicians' undergraduate degrees are most likely in biology, not business. Medical schools teach all about the human body and how to provide optimal care to the individual needing it. Yet very few are taught little about the business side of medicine and its enormous impact and influence. Fast Chart's Automated Transcription Solution empowers physicians, transcriptionists, quality assurance, and HIM personnel to monitor and improve the entire transcription process. And a more efficient workflow is good news for everyone – especially patients. 
Business Skills
Harvard Business School proposes the idea that healthcare professionals also need to understand the business side of medicine and hone in on those skills if they want to deliver a high-quality patient experience while still meeting organizational goals. Dr. Richard Pitts, vice president of clinically integrated networks suggests, "Paying attention to the best treatments, along with the cost of those treatments, requires both business and medical skills."  
Identifying the strengths and weaknesses of your practice, clinic, or hospital is the first step to mastering the business side of medicine. The second step: letting professionals step in and help. Outsourcing your medical transcription needs is an ideal way to do that.
Some fundamental ways quality medical transcription companies can aid:
1. Efficiency
Healthcare providers can improve their efficiency by concentrating all their resources and efforts on their core processes without worrying about transcription responsibilities or the business side of medicine.
2. Reducing Workload
Allowing your qualified staff to focus on the daily operations and other business functions while knowing that your transcription needs are being met results in a reduced workload and better patient care.
3. Streamlining Workflow And Maintaining Organization
Outsourcing to reliable medical transcription companies allow you to make your documentation workflow more efficient by simplifying the process. These services ensure you a chance to maintain accurate and updated reports in your practice, which would help to retrieve information quickly on the backend.
4. Unparalleled Accuracy 
98.5% precision is what you'll get if you have outsourced to a superior medical transcription service provider. Accuracy in the finished transcripts is something that should not be taken lightly. Our Speech Understanding™allows physicians to dictate in a more normal, "conversational" mode by not having to memorize and call out specific terms to verbally cue the speech engine. 
5. Latest Technology
Outsourcing companies are equipped with the latest technology, meaning you don't have to be concerned with staying on top of the up-to-the-minute transcription equipment for your clinic. This leaves your cost distribution to go to more pertinent items. Providers can even dictate directly into the EHR system if they choose, creating a comprehensive clinical document that incorporates both voice and text through a single application. 
6. 100% HIPAA compliance 
Medical transcriptionists follow HIPAA norms and regulations while offering guaranteed confidentiality and security of your patient's health information.
7. Timeliness 
A frequent problem that in-house transcription staff runs into is backlog. One of the reasons for this is staff shortage. This is not a problem with outsourcing solution specialists. Our end-to-end solutions are expansive, but they're also flexible. We will work with you to meet your needs.
The business side of medicine can feel overwhelming and frustrating. Freeing yourself of these concerns means more time to care for your patients. Isn't that what led you to medicine in the first place?
Here at Fast Chart, we are committed to only hiring domestically located Medical Transcriptionists that meet our rigorous standards and training. This is why Fast Chart has an accuracy rate greater than 98.5%. We pride ourselves on providing innovative, accurate, and affordable clinical documentation solutions to meet each client's unique needs. Feel free to contact us at 1-800-334-6606 to understand more about how we can help aid your practice when it comes to the business side of medicine.