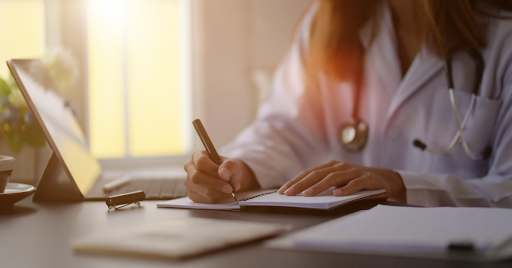 Opting for in-house medical transcription services would require a healthcare organization to be responsible for employee training and management, records, technology, equipment maintenance, turnaround time, HIPAA compliance, and other variables related to medical transcription services. This would give the practice less time to focus on its core business of healthcare. That's why you should choose Fast Chart for your medical transcription services
Benefits of Outsourcing Medical Transcription Services
Outsourcing medical transcription services through Fast Chart is the ideal solution. Outsourcing through Fast Chart has granted countless healthcare facilities the time and resources to focus on patient care while improving their overall efficiency. To learn more about the benefits of outsourcing your medical transcription services, keep reading.
1. Cost Efficiency
One of the most notable advantages of outsourcing medical transcription services is the cost savings. By outsourcing labor, administration, and training, costs are significantly reduced. In addition, the expenses associated with purchasing and maintaining digital and transcription equipment are eliminated.
2. Confidentiality Of Medical Records
Medical transcription outsourcing can seem intimidating since it comes with patient information. At Fast Chart, the confidentiality of your data is of the utmost importance. You will not have to worry about the safety of your data while we are working with it. This can provide you further peace of mind moving forward, as this is a major benefit to outsourcing your medical transcription services.
3. Greater Accuracy
Healthcare practices that manage their transcription services in-house may suffer from poor accuracy and turnaround time due to inadequate control measures. At Fast Chart, we ensure the highest levels of accuracy by carefully screening employees and only hiring those that have the knowledge and experience to produce precise work.
4. Service That is Scalable
It is inevitable for transcription volume to fluctuate. Healthcare organizations that manage transcription services in-house must maintain a staff regardless of the workload size. Outsourcing gives these facilities access to the amount of medical transcriptionists necessary to get the job done. This ensures that they are only paying for the work and resources they need.
5. Competitive Pricing
Streamlining your medical transcription process through outsourcing is one of the most effective ways to simplify workflow and reduce the number of steps in the accounts receivable cycle. Our philosophy has always been to provide the highest quality documentation, consistently on-time, with competitive pricing. Fast Chart strictly adheres to several billing methods principles, including
Verifiability:

We track all of our output with a transparent billing system that clients can access and monitor online anytime.
Definability:

We adhere to the AHIMA's standard unit of measure – Visual Black Character (VBC).
Measurability

: Our pricing structure is true to character and accurate, and we provide our clients with detailed billing reports.
Consistency

: We consistently apply all of our medical transcription billing methods. We only change methods when the client requests it and only after the new method has been clearly defined in a new or revised contract.
Integrity

: Our billing methods are fair and honest.
6. HIPAA Compliance
Fast Chart understands the importance of adhering to HIPAA compliance. Outsourcing our services can give healthcare providers the peace of mind that comes with knowing that all our medical transcriptionists have signed confidentiality agreements and will keep medical information safe and secure. Each medical transcription file that we transcribe has been given every effort to ensure 100% HIPAA compliance.
If you're searching for a reliable and affordable way to outsource your medical transcription services, Fast Chart will exceed your every expectation. At Fast Chart, we employ a skilled management team that consists of healthcare veterans with an average of 15 years of industry experience as well as highly skilled medical transcriptions that are entirely based in the U.S. In addition, we offer 24 hours of live support, so you never have to worry about having a question or concern unanswered. Our state-of-the-art technology and all-inclusive document workflow solution, paired with our experienced team, work together to give you reliable results that you can count on for years to come. Contact us today!