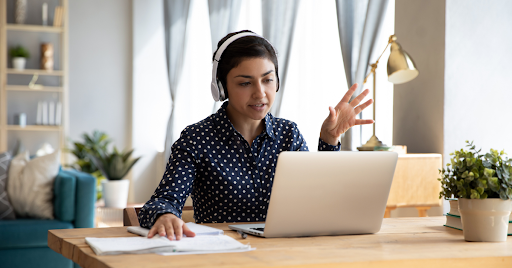 For certain folks, working from home is the ideal situation. However, like any job, it does come with its challenges. When you work from home, it is easy to get distracted by household chores and a long to-do list of tasks that are tempting to complete. Additionally, at times it is hard to muster the motivation needed to get off the couch, turn off the TV, and focus on getting your job done. For this reason, Fast Chart has come up with five working from home tips to help you stay motivated and productive in your day-to-day tasks.
1. Create A Dedicated Office Space
One of the most crucial tips for staying focused while working from home is creating a space in which you feel comfortable working. Set up an office with a desk, computer, printer, and all your supplies. Going a step further and decorating the space can also positively affect productivity. Having a dedicated office space allows you to close the door and concentrate solely on your work. With the distractions of the household left outside the door, you can focus on the job at hand. It also aids in organization, which will help you feel more relaxed and prepared to get the job done. Try hanging a sign on your office door or implementing a knocking rule to avoid interruptions from family members.
2. Shower And Get Dressed For The Day
Have you ever had one of those days when you didn't get out of your pajamas and felt tired and sluggish? Showering and getting dressed for the day, like you would if you were leaving the house to go to work, can make you feel better and aid in your productivity for the day. It has been said that you should dress for the job you want, not the job you have, so try implementing this at home as you would at an offsite office. When working from home, make sure to dress for success!
3. Create A Routine And Stick To It
Your home is full of distractions. It may be tempting to throw in a load of laundry and stick dinner in the oven throughout the day. In order to avoid chores that interrupt your work, set a routine and schedule in mental breaks. Some even suggest working for 8 hours a day without any breaks is outdated, ineffective, and can even be detrimental to productivity. Try taking small breaks that will allow you to focus better and get more done during periods of uninterrupted work.
4. Prepare A To-Do List
There's no better feeling than checking off all the items on your to-do list! With the distractions that inevitably come with working from home, creating a list of action items that need to get completed is a great way to help you stay on task. Additionally, try completing the more tedious tasks during hours you feel most productive. As you complete each task, check it off your list. Soon enough, you'll be able to look back and see how much progress you've made!
5. Value Your Lunch Break
Lunch is your time to refuel your body and brain. Try eating something healthy that includes proteins, fats, and carbohydrates which will help enable your focus and productivity for the remainder of the day. Indeed suggests scheduling your lunch break at the same time every day to get your body used to a scheduled eating plan, and maybe even some sort of self-care activity, such as a walk or meditation. 
Interested In Working From Home? Learn More
If you are interested in a career where you can work from the comfort of your home, we invite you to explore career opportunities with Fast Chart. At Fast Chart, we hire top-notch medical transcriptionists who are passionate about helping healthcare organizations succeed. We invite you to review our employment requirements and qualifications and if you believe that you meet our requirements, complete an online Qualification Form and attach your current resume to prequalify online. Once you pre-qualify, you will be asked to complete a typing and medical terminology test. After the test is complete, you will receive a response within three business days.