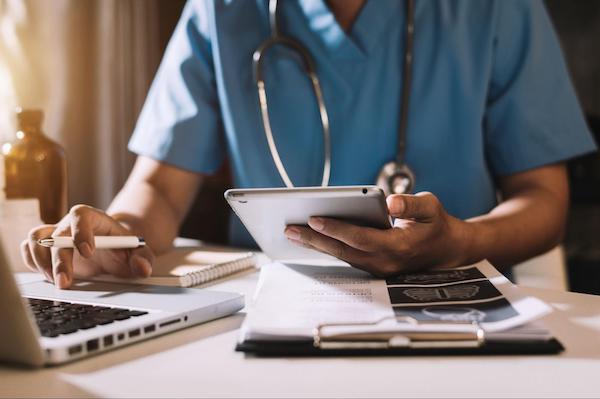 The medical field is fast-paced and constantly evolving, which means your practice needs state-of-the-art technology to help keep up with the changes and deliver the highest quality patient care. Fast Chart is compiled of a U.S.-based team of highly skilled medical transcriptionists, quality assurance specialists, customer service representatives, information services technicians, and account managers, but we don't stop there. Fast Chart's partners include M*Modal, eBridge, and IQMax, which help to provide you with top-notch documentation solutions. To give you a full scope of how Fast Chart and our partnerships can elevate documentation at your practice, we're explaining some of the main features of each of our innovative partners.
M*Modal
M*Modal technology is what powers many of Fast Chart's applications, such as speech understanding, intelligent imaging, and automated transcription. As a company, M*Modal is an industry-leading healthcare technology that focuses on providing advanced clinical documentation solutions as one of the largest clinical transcription service providers in the U.S. M*Modal is the driving force behind advanced cloud-based speech understanding technology and data analytics. These unique features enable physicians and clinicians to include the context of their patient narratives into electronic health records in a single step, further enhancing their productivity and the cost-saving efficiency and quality of patient care at the point of care.
IQMax
IQMax is one of the leaders in intelligent healthcare communications. As one of Fast Chart's partners, IQMax ensures safe and secure messaging, a top-notch health information management system, and provides healthcare professionals a complete suite of products specifically designed to securely communicate and collaborate in real-time for better care coordination. Their solution, IQCommunicate, allows clinicians to manage all forms of communications from text messages to tasks, critical alerts, scheduled, and more. IQCommunicate is compatible with any smartphone or tablet device, making it easy to stay connected whether on rounds, in the office, or on-call.
eBridge
When it comes to Fast Chart's partner, the document storage solutions powered by eBridge help complete the trifecta. Known for their hosted document management solution, eBridge helps reduce paper, centralize storage, maximize efficiency, and minimize security risks. 
Founded in 2001 by two document-management industry veterans, eBridge is based in Tampa, FL. eBridge helps Fast Chart deliver essential services to our clients through their various solutions, including highly secure document storage, document annotation, mobile-friendly document access, and more. Their full audit trail feature shows you which of your authorized users is accessing your files and reports on what they're doing, providing you with complete control over your account.
The Bottom Line
In order to deliver the highest quality clinical documentation and medical transcription services to our clients, we make sure to partner with leading tech companies to ensure every aspect of our service is accurate and efficient. With help from M*Modal's technology, IQMax's intelligent communication, and secure storage from eBridge, we can ensure that your practice or hospital is provided the best possible medical transcription and clinical documentation services. 
CONTACT FAST CHART
Fast Chart is a medical transcription company that combines technology, experience, and service. We provide innovative, accurate, and affordable outsourced clinical documentation. Our solutions are scalable and include services and technologies like computer-assisted coding, automated transcription, and speech understanding to ensure accuracy in your clinical documentation, no matter the size of your organization. 
To learn more about Fast Chart's partners, as well as our services and solutions, contact us at (919) 477-5152.